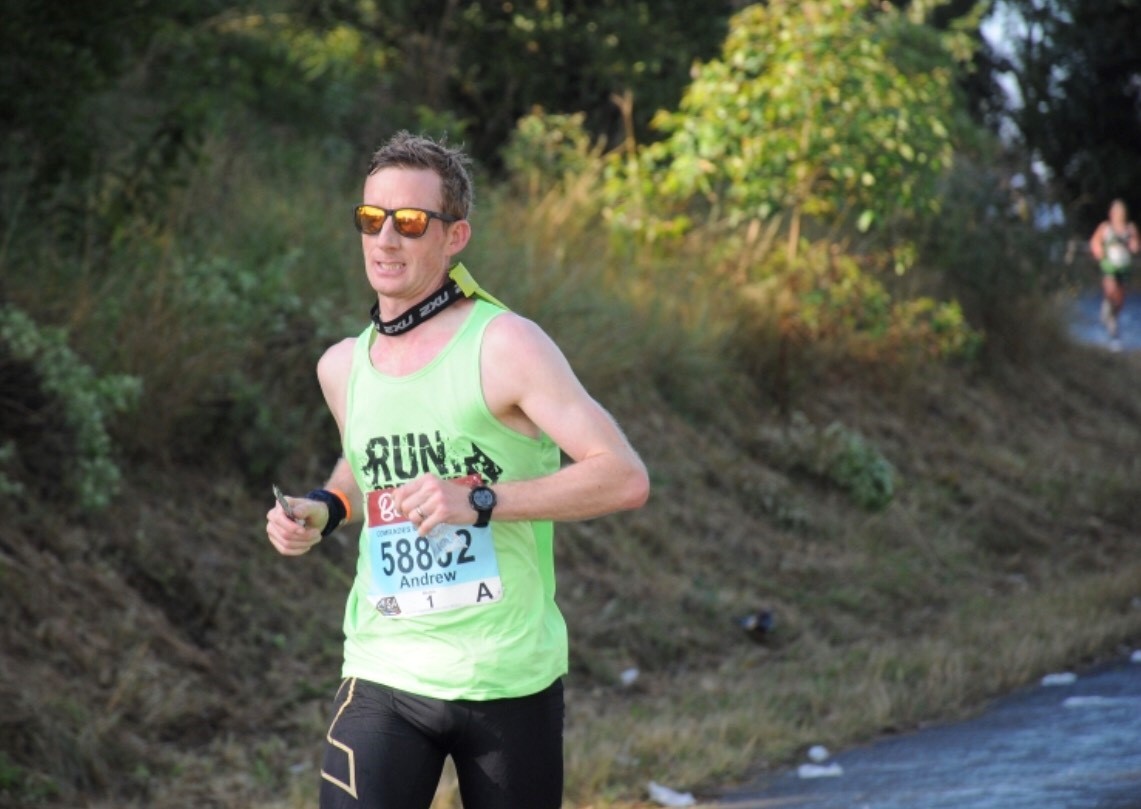 The 94th Comrades Marathon- The Ultimate Human Race
– by Andy Heyden – Instagram @marathon_andy
My main 'A' race in the first half of the year was the 87km Comrades ultramarathon. Having completed the down run in 2010 I was keen to return one year to take on the up run, you aren't a true Comrades runner until you have done both ! Training had gone well from January through March and April using Sixfoot track and the Canberra 50km to build and I was feeling strong and set my sights on a finish time of 6.30-6.40.
However a hamstring strain in the May NSW 10km meant taking easy rather than completing my 4 biggest planned training weeks including the longest 60km run and a couple of double long run weekends and hill work. Instead I had a very early 5 week taper.
I was still able to run soon after the strain but had to be careful and didn't get beyond a slowish 30km and had to add plenty of rest days. What I did do though was 5 weeks of strengthening exercises to try and get the hammy back to where it needed to be.
In my 10 years of ultra running never before had I stood on the start line with less confidence as to whether I might finish.
Up at 3.30am on race day, Uber to the start area and joined the masses in the A pen. 25,000 entries had been accepted and 23,000 had qualified and registered. The noise and atmosphere on the start line is like no other. The African drums are beating and the energy in the locals is amazing they are chatting, dancing and buzzing around. Then 15 mins before the gun comes the traditional singing of the anthem, Shosholoza and then chariots of fire. The lead up to the start is one of the amazing aspects of Comrades but this year due to my lack of confidence and nervous doubts, it was like being in a night club and to be honest I had a headache before the gun fired!
5.30am and we are off. Lots of pushing and shoving which is mad given the long road ahead. I held back and tried to keep out of trouble, two big falls around me with multiple people hitting the deck. It's dark for the first 45 mins and the noise in the outskirts of Durban is incredible- too much to take in and whilst usually gives you energy, I was feeling nervous and negative and actually found it too much this time. I was keen to get to the quieter outskirts.
Wasn't long before the climbs kicked in. I broke the race into sections and first goal was to get to daylight without tripping or being tripped. In the first 10km my splits ranged between 4:16 and 4:53 as we covered the first few climbs. Similar in the next 10km and the field finally started to spread out a bit. Post-race the splits showed that I went over the first timing mat in 879th place. I had started cautiously as planned, hammy seemed OK and gels going down OK every 7 km. I had 15 gels and a few other supplies in my Naked band running belt which I had used in training and it was fantastic again, no chaffing or slipping at all.
15km done and we had climbed the first of the five 'serious' hills although in reality there was no flat running in the whole race. Cowies Hill climbs over 100m in its 2km. At 22km we are on to the second of the 'big 5' Fields Hill sees a climb of 190m over 3.2km. At this point I start overtaking some of the early chargers and some are walking already. My headache has gone and I start getting my mind set on the plan for the next 65km. Tempted to start pushing as my average pace has dropped from the hills and sits at 4:40. But I hold back as feels it's too early to chase a fast time and want to ensure I finish.
Sun is out and my goodr sunglasses are needed. Wear them for much of the face from head to reduce glare, comfort and soon forget they are on.
The crowds remain thick and I start acknowledging a few people and getting into the spirit of the race. A few more short rises and then soon we are on to Botha's Hill, another 120m rise over 2km. Here I see a few of the elite women ahead and latch on to them. I pull up alongside multiple Ironman World Champion Chrissie Wellington and see her eyes are gone and she's shot, I try to help her up the hill but she had nothing and I had to push on. Keep the effort consistent, keep the gels going down every 7km and soon we are at the halfway mark at Drummond. (Post-race splits show that I was now up from 879th to 601st but the race hasn't really begun still).
Huge crowds at halfway and then it's time for another big hill, Inchanga and 140m of climb over 2km.
Remind myself that the second half is flatter and the hammy seems to be holding well, confidence notches up and I start to set my sets on my PB from 2010 (7:08) as achievable. Finally a few downhills but I daren't open up my stride and put pressure on the hammy. I'm wearing the Nike 4% ers and they have been comfortable but the high camber on the road is putting a bit of pressure on the outside of my calves. Steigen socks are great again, no blisters forming, light and cool too. Try to stick to the middle of the road and avoid the catseyes. Hold strong on the next hill at Umlaas Road and push past a few of the named elites which feels good. High five the disabled kids at Ethembeni School and remind myself I am fortunate to be able to run. They are a big part of the Comrades race and a few of them have the Aussie flags I handed out the day before.
Popped a couple of CurraNZ blackcurrant tablets to help aid performance over the second half and aid the post-race recovery process.
Just as my spirits were rising the guy next to me bites into his water sachet and attempts to spray the water down his neck but instead directs it into my left ear! I stumble right just as another runner cuts across me to grab a water sachet and somehow we don't trip. Phew, that was a close one.
We are through 60km and 70km and I've held the same average pace. Passing plenty of runners and few passing me (results show that at 67km the mats show that I was now up to 322nd).
Focus on some of the runners ahead who are holding their pace well, 3 guys all with green bibs (10+ finishes) and awesome names – 'Lucky', 'Justice' and 'Freedom' these aren't nicknames, that's South Africa for you.
I now allow myself to look at the kms markers, 17km to go, 16km to go etc. and I decide to try and push on. Manage to get my pace into the 4:20s and still no sign of the hamstring tightening. PB is on but the last of the 'big 5' hills is looming. Polly Shorts is shorter and steeper and means another 130m of climbing although it's only 8km left once you summit. Most people around me are breaking on Polly Shorts and walking but I refuse to stop running. Finally at the top, grab my first coke of the day and finally allow myself to believe I'm going to not only finish and claim another silver medal but maybe get a PB too. Put in a 4:27km and start the push for home but bloody hell around the corner and we are climbing again it's not flat after all! Reel in two more elite ladies and a few more runners and start pushing for home.
Finally I'm buzzing, adrenaline flowing and can see the finish area at the race course ahead, cover the last 1.2km at 3:49 pace my fastest of the day. The wall of noise in the 300m finish zone is awesome and even if the hammy goes I'm not being stopped now.
Finish in 7:02, second silver medal (sub 7 hrs 30) claimed and hammy hasn't spoiled the experience. Of course natural thought is damn I could have pushed harder in the first half! Hindsight always a wonderful thing.
Amazing experience once again, awesome race, like no other.