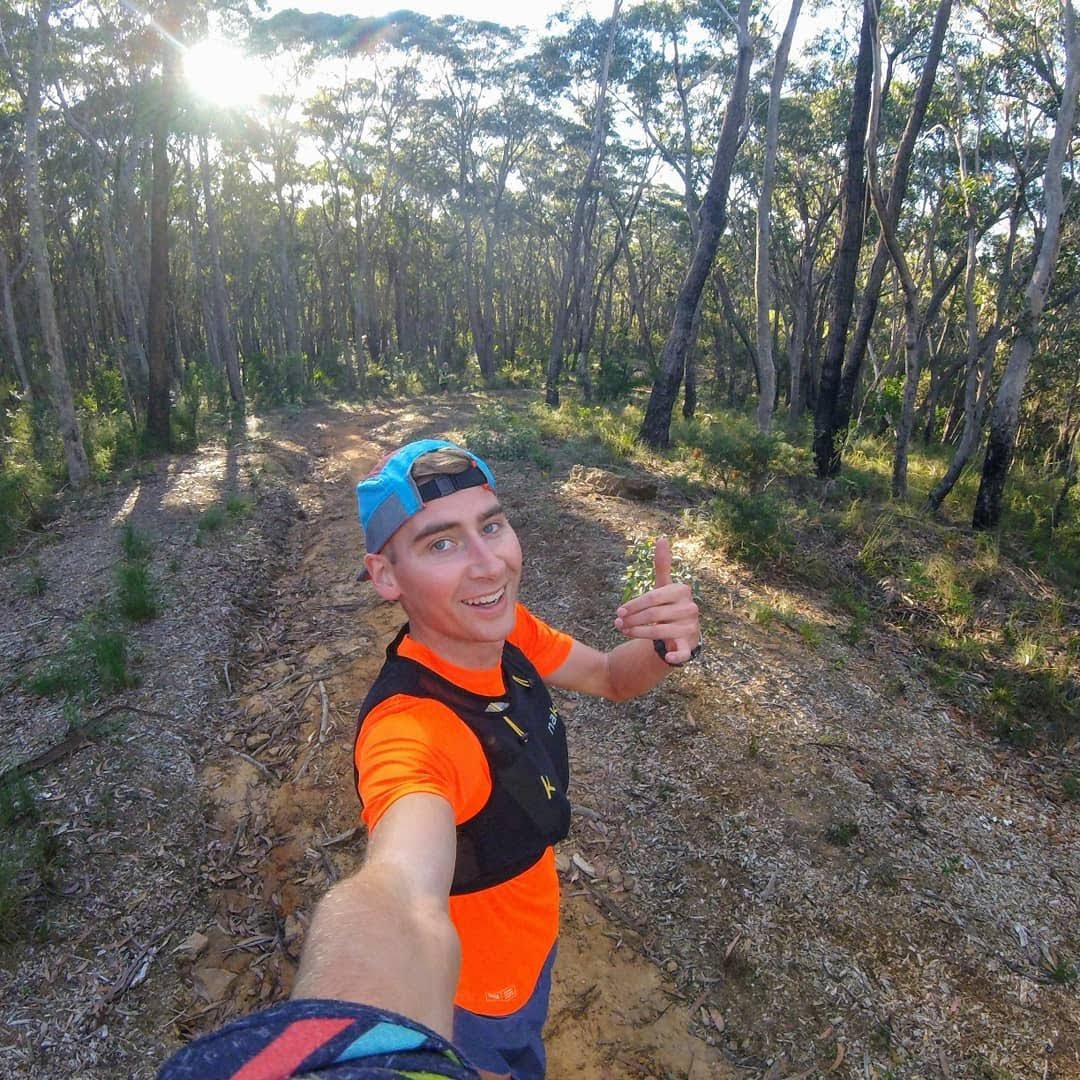 The Naked Vest – A Review
Before getting into things that I liked and disliked; I was keen to try this product out as it looked like a minimalistic vest fitting which could fit into that area where you don't need to be carrying a heap of gear, but needing more than a handheld bottle. What also caught my eye is that, unlike competitor products, the Naked Vest has no zips, clips, latches, or other means of being held together.
THE FIT
The vest is made of a stretchy fabric, the same material as the Naked Band. Anyone familiar with the Band will know that these things fit pretty tight! As with the Naked Band, the Naked Vest comes with 12 size options. Yes, 12! While this seems like a lot, it probably is required in order to really get the right fit.
As will become clearer when considering use, finding the right fit is imperative to stopping everything in the pouches bouncing around – it is the stretchy mesh that is solely responsible for keeping things in place! Unlike other hydration packs/vests, the Vest doesn't give you the ability to adjust the size on the fly. There are no pull cords, drawstrings, or straps to adjust. This applies to the pouches too. So everything hinges on the fit being pretty tight. I would recommend trying one on over top of a few different running tops, and walking around for a good 10 mins each time. This walking around I cannot stress enough. I first thought I had the right size, only to find that after a while it felt like my chest was being constricted and implied I was a size too small initially. From my experience, if you walk around in it and after a while forget you have it on, you have the right size!
Don't be deterred by initially feeling like the tightness is uncomfortable, it soon fades and I completely forgot I was wearing. In saying that, it did take me a while to get used to the snug fit of the vest. But it did happen and, in fact, I'd often keep wearing after my run in cafes or in the car travelling home!
Getting the Vest on/off is a separate issue. This thing is a bit like climbing out of tight skin suit, especially after running in the rain. My best way to describe this is to think about peeling off compression top layers; tends to stick to you and require some muscle to contort the body out. Not a deal breaker, but it does impact being able to readily take the Vest off if you want to put on (or take off) a layer of clothing. The snugness would make for some interesting aid station 'dances' – something I would probably avoid.
The Good: Lightweight and breathable. You really do forget you have it on!
The Bad: The snug fit can make it a bit of an effort to get on/off. Whilst not a deal breaker, it might impact the versatility if you are likely to run through varied weather requiring layers to be added/removed.
STORAGE
I want to just focus on the design of the vest, and put aside how that translates into practice (see below for that).
The vest has a full kangaroo pouch on the back, two kangaroo pouches on the chest, and two small kangaroo pouches on the sides under the armpit. The stretchy nature means you can store quite a bit of storage in each of them.
One very useful thing is every pouch has a bungy cord string at the top of it; makes it really easy to open a pouch without fumbling around trying to get between stretchy hems/joins.
There are, however, some particular points worth raising:
Chest Storage: Two pouches, one on each breast. These are the ones I used the most. In a typical run I had:
Left pouch: 1×350 mL soft flask and a GoPro, and gloves;
Right pouch: 1×350 mL soft flask, my mobile, maps, arm-sleeves, and a buff.
Side Storage: Small, one side usually held my keys, the other side held 1-2 gels.
Back Storage: The size is great, and could hold a bladder, poles, or clothing. Notably, it could not hold ALL of those items together, you need to pick one from that list.
The Good: True to my initial thinking, the storage capacity of this pack falls right between a 'traditional' running pack, and a handheld.
The Bad: Since everything is held in each pouch by the stretchy fabric, when this vest isn't on you, it is as secure as a Woolies shopping bag. You have to put the Vest on and then load it up. If someone has a trick to avoid this, please let me know!
OUT ON THE RUN
I've separated 'storage' and 'use' here; the reason being that whilst the Vest has a decent amount of storage, my view on whether it's good or bad really depends on what I'm storing, and how often I need to access it. One of the biggest questions I had was if things bounced around (spoiler: they don't!).
Chest Storage: As mentioned, these were the most used for me. The location meant it was easy to access drinking from the soft flasks, and readily get the GoPro out to get some footage and re-stow it without breaking stride. There were a few times when things bounced a bit, but a slight reshuffle of items in the pouch fixed that up. I was also pleased that as the flasks became empty, the stretch on the Vest meant everything was still secure and bounce free!
Side Storage: I was worried these would irritate me and they appear to be right in the path of a swinging arm. Pleasingly, the design means they are slightly off centre and I never had any issues. Easy to access and useful spot to store a few gels.
Back Storage: Let's get straight to the sticking point – the rear pouch is hard to get to when the thing is on! A bladder is held well, and poles are (surprisingly) secure. But, if you store a jacket in there and want to pull it out mid-run, I wish you luck. In fact, I just had to ask others to get things from it – preventing the 'aid station dance' I mentioned earlier.
SUMMARY
The Naked Running vest is essentially a vest version of the popular Naked Band, made from the same stretch-mesh fabric which makes the vest very lightweight, breathable, and designed to fit fairly snuggly. The elastic mesh keeps things stored securely without bounce, and in general the storage system works well.
However, I can't see how you would get the vest on/off with things stored in the pouches, and the rear pouch is pretty hard to access out on the run.
Perhaps by nature of the fact that you can't easily access clothing in the rear pouch the Vest fits perfectly in the market-zone of a minimalist running vest. I think this is a great option for those runs when I'm thinking "probably need more than handheld, but do I take a whole pack?".
I suspect these might start cropping up at various mid-distance trail events such as Ultra Trail Australia UTA11, UTA22 and UTA50 or Six Foot Track. I know I'll be rocking mine!